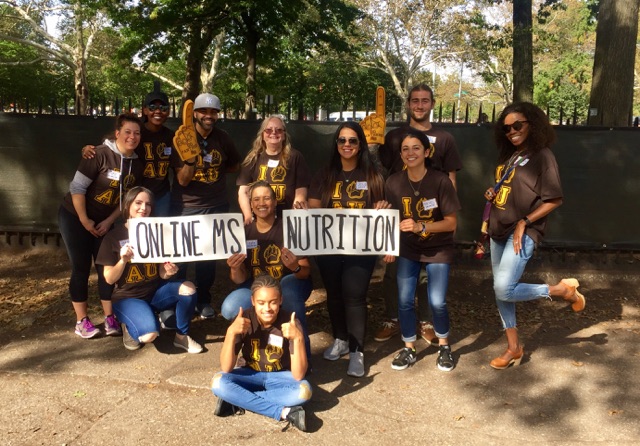 On Saturday, October 21, 2017, during the week break between the Fall semester 7-week sequential courses, students and alumni of Adelphi's online M.S. in Nutrition Program met face-to-face for a field trip to the
Museum of Food and Drink
(MOFAD) in Brooklyn, NY. The trip included a guided tour by a docent with food samples cooked by a chef in the museum's special exhibit
Chow: Making the Chinese-American Restaurant
. After that, the group of students, led by Program Director and Clinical Associate Professor
Diane Dembicki, Ph.D.
, walked across the street to visit the
McCarren Park Greenmarket
for refreshments while they continued networking with each other.
There were 14 graduate students in various cohorts of the
M.S. Nutrition Program
who could make it that day, including two Fall 2016 alumni from the program's first graduating class, four spouses, and one 11-year-old daughter. "The student with the husband and daughter were from Virginia and they traveled the farthest to attend," said Dr. Dembicki, "thus I gave them the prize of an AU teddy bear, which the daughter, Leilani, carried around the entire time."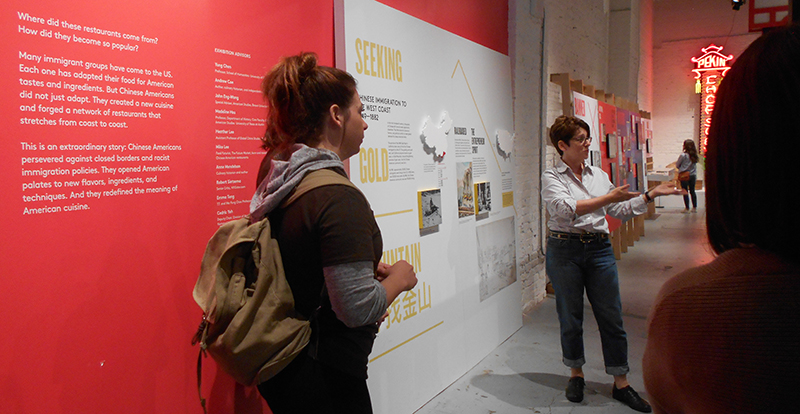 The group all wore Adelphi T-shirts that day, and then held up Go Panthers foam hands and the program sign for the photos. "Everyone said they had so much fun meeting each other in person, and learning about food and culture at the museum and extending that experience with food producers at the market," said Dr. Dembicki.
The graduate students included: Kaylenne Brown, Victoria Catalanotto, M.S. '16, Regina Cassagnol, Joud Deeb, Regina Deluce, Anthony Fonseca, Deborah Johnson, Amelia Laux, Nedjy Jules-Snead, Allison Riccardi, M.S. '16, Alex Salvadori, Stacey Silverman, Rachel Staiano, and Julia Villani, with Dr. Diane Dembicki.
» Explore the M.S. in Nutrition program